Chloe Rodham
Newcastle Upon Tyne

,

Northumberland

,

U.K.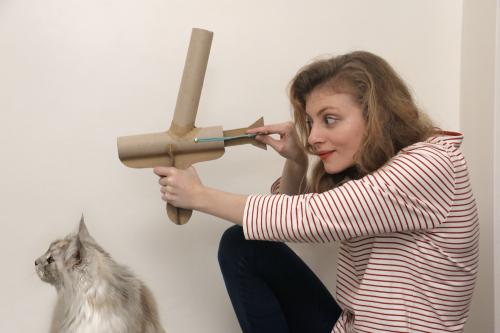 Magnificent maker
7 brought to life
1 working on
I'm an animator and model-maker based in Northumberland. I combine digital animation techniques with more traditional methods like stop motion. I enjoy sharing my skills with others - I'm an Associate Lecturer at Northumbria University and an animation mentor with TICE - introducing children to what it is like working in creative industries.
Recent project reports
Plastercine model
This is the start of the pastercine sculpt - I'll be using this is a base to papier-mâché over the top. Plastercine is quite heavy and I need the model to be nice an light so its easy to animate. I have used wooden beads for where the eyes will be. They have a hole in them so they will be able to move.
Starting off
This is my first post, I'm going to be making Bo's fantastic Auto Shivering Heating Device as a model and stop motion animation - I think Bo's idea is very clever and I know I could definitely use it to warm me up as I'm always complaining when I'm chilly! Bo has drawn a really good drawing of the person using the device so I'm going to plan out what size to make it and then start off making the head out of plastercine.
Remote control
On the call I had with Muskaan, she came up with a great idea to make the washing machine able to be controlled remotely so I've made a pair of arms and phone so that I can add this into the animation too in order to show how this might work